Healing For High Performance
Celebrities, professional athletes and San Diego's elite choose Human Touch Massage and Bodywork
Get in Touch
Welcome to Human Touch Massage and Bodywork
We offer specialized Massage and Bodywork to meet your needs
Jack Apostol has years of professional experience in delivering various forms of therapeutic massage and bodywork. Her keen interest in anatomy and body mechanics keeps her motivated to constantly hone her skills and further her training.
Jack has greater insight and empathy towards her clients from her own experiences with injuries and holistic healing. Staying physically active with boxing, swimming and weight training is important to her.
Professional Training:
• Certified Rolfer – The Rolf Institute of Structural Integration® (Boulder, Colorado)
• Holistic Health Practitioner – International Professional School of Bodywork (IPSB), (San Diego, CA)
• Traditional Thai Massage Specialization. – IPSB (San Diego, CA)
• Traditional Thai and Herbal Thai Massage – The Old Medicine Hospital Shivagakomarpaj, (Chiang Mai, Thailand)
• Symmetry Practitioner Level 2 (San Diego, CA)
• Lypossage Cellulite and Body Contouring™ (Las Vegas, NV)
• Kinesio Taping Method (KTM) - (Las Vegas, NV)
• Visceral Manipulation - European Rolfing Association (Munich, Germany)
• Broad range of additional courses related to holistic health arena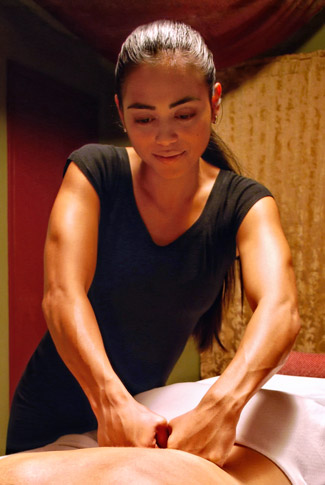 Clients Praise
As an collegiate water polo player, I frequently strain myself in training to improve my game. After a long stressful week of school and practice, my body can be wound-up tighter than a two-dollar clock. I have been going to Jacqueline for massage therapy, and I am thoroughly pleased with the atmosphere and technique she presents. She focuses not only on getting out your kinks, but making sure you leave much more relaxed and stress free than when you came in. She really puts her full concentration into every session to make every minute amazing and relieving
This is the best massage I have ever had! I have had a lot of massages and this is by far the best! She has magic hands! I recently injured my shoulder. The pain I was feeling was so severe that it became difficult for me to complete common everyday tasks. Jacqueline said she could heal me up quick and she began treating me. I immediately saw results and after a few days I was 100 %. She has the best hands I have ever seen and her pressure is perfect. She finds the right points to release the pain like no other therapist I have experienced. If you are looking for a massage therapist look no further.
I would like to start by saying Jackie is AWESOME! Jackie was referred to me by my former masseuse and I have not been disappointed! Jackie makes me feel very comfortable and always makes sure that I am relaxed. Jackie really loves her job, but I am sure she doesn't look at it as a job because she obviously loves what she does. She educates me and makes sure I do the proper things to take care of my body between sessions. I run 5 miles or more daily, 40 miles a week. I run many marathons and ultra marathons so my body is definitely in need of relaxation and care. Jackie definitely knows how to target the right muscles that are tight by massage, stretching and other techniques. She always listens to what I want and always delivers. I like deep tissue and I like very hard pressure and Jackie can definitely deliver that. But the great thing is she listens…so once you tell her what you like, she will know and you won't have to worry about it in future sessions.
I recommend Jackie 110%. She is a great masseuse and an even better person! Enjoy!
Jackie has helped me recover from a series of boxing injuries; specifically with shoulder and lower back pain. My profession is very physically demanding, and my workouts are very intense, especially when I am preparing for a fight. I've noticed that my recovery time and body soreness has significantly decreased since I have been going to Jackie for massage treatments. In addition, I have felt more relaxed and mentally alert. As a professional athlete, I know I am good hands and ensure that you will be, too.
Blog and News
Massage and Rolfing
Address10085 Carroll Canyon Road, Suite 200E, San Diego, CA 92131Phone858.231.4618
HoursMon – Thurs 8:00am – 7:00pm, Friday 5:00pm
Sat 8:00am – 1:00pm
Sun CLOSED
(By appointment only. No walk-ins)